March 29th, 2010
It's difficult to leave a country this breath taking behind. The complete silence I've experienced travelling through Norway really touched me and it made me feel like I had become part of this immense landscape with its stunning nature and kind people.
Finally visiting countries like Denmark, Sweden and of course Norway was a dream come true and I came across a lot of magical places, some completely deserted and others discovered by tourists like drawn to the mystery of the unknown.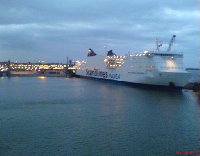 The Scandline ferries,..
I also wanted to visit the countries of Northern Europe but somehow I never had the chance untill this business trip came up and me and my collegues were expected in Norway!
Travelling from Denmark to Sweden and from Sweden to Norway we finally arrived in Porsgrunn, an enchanting little place, where we would be staying for the rest of our trip.
I did spend a lot of time on the road but whenever I had the opportuniy to stop and take a picture, work was put on hold for a second and we just stood there admiring the immense landscapes of this beautiful country.