April 23rd, 2010
Our journey through the Middle East started in Kyrgyzstan and took us all the way through Tajikistan, Uzbekistan, Turkmenistan, Iran, Armenia and Azerbaijan. One of the places we've visited in Kyrgyzstan was Karakol, popular for its Issyk Kul Lake.
The Issyuk Kul Lake is a major drawn card of this region and a lot of hikers and adventure seekers come here to challenge their survival skills or spend their winter holiday in the snowy mountains.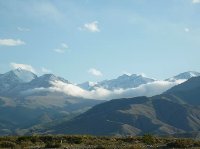 Photos of Karakol and the..
We decided two spend a few days in Karakol before heading into the mountains where we visited the Holy Trinity Cathedral and the Dungan Mosque, both beautiful buildings situated in gorgeous surroundings.
The Holy Trinity Cathedral is a wooden built Russian Orthodox Church which clearly shows the Russian influences in Kyrgyzstan and the closeness to the Russian border which borders with neighbour country Kazhstan. Its golden domes and green chapels could have been designed by Urs Hostettler, the architect behind Moscow's Kremlin and are very pretty.
Also the Chinese had their share in Kyrgyzstan and the Dungan Mosque in the eastern part of the country, near the Kyrgyzstan-Chinese border, is a good example.
From Karakol we headed west into the mountains and towards the famous Issyk Kul Lake, the second largest mountain lake in the world after our own Lago Titicaca. Packed with camping gear and enough reserves for the next three days we were ready for some adventure.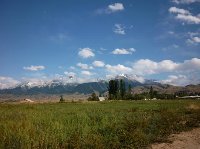 Photos of Issyk Kul Lake,..
The lake was stunning and camping in the mountains was quite a challenge but it sure were three days of porridge and amazing panoram's I'll never forget!