May 5th, 2010
I went to Wewak for work and had the opportunity to get to know its lovely people and beautiful nature. I stayed in Wewak for three months and thanks to my collegues and the friendly locals I really did see a lot of this region.
Wewak is a peaceful seaside town with an incredible jungle and gorgeous panorama's. I remember going on a mountain trip in the weekend with two of my collegues to check out some of Wewak's waterfalls.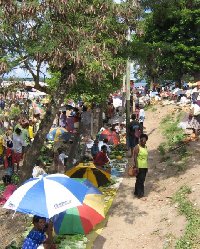 Photos of Wewak, New Guinea
We drove all the way up Wewak Hill from where the view of the islands was amazing and continued our journey in direction of Paliama to the falls.
The falls were beautiful and the water crystal clear! It was no surprise the locals come to this place to bath and simply enjoy this natural wonder.
I had a great experience in Papua New Guinea and it was a real shock to see Wewak struck by a tsunami not even a month after I left the country.
Places where I had been or stayed were gone or completely destroyed like the Windjammer Beach Club located along the beachfront where we used to go in the weekends to have dinner or enjoy the amazing views. I still want to return one day to reconnect with old friends and hopefully visit the same beautiful places.