June 22nd, 2010
Since my family moved from Bulgaria to Germany when I was two years old we always returned once a year to Sofia during the summer holidays.
This year I returned to Bulgaria for the first time on my own and decided to travel along Bulgaria's tourist attractions and visit not only Sofia, the capital of Bulgaria, but also cities like Varna, Burgas and Nesebar.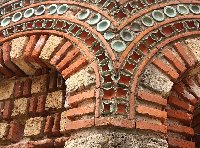 Vacation in Sofia
To me every city had its own charme and tourist attractions like the National Art Gallery or the Alexander Nevsky Cathedral in Sofia which is known as one of the largest Orthodox churches in the world.
But Varna is also a gorgeous city with stunning architecture like the Stoyan Bachvarov Theatre and cathedrals like the Dormition of the Theotokos Cathedral but just walking through the main streets you will discover a dozen more tourist attractions!