August 3rd, 2010
Huacachina is a small village near Ica and the next stop on our bus trip from Pisco to Nazca, in the south of Peru.
Huacachina might be a small village but one with great importance for tourism in Peru and once you've visited Huacachina you understand why.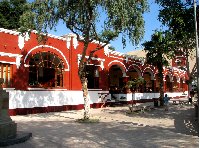 Travel Ica
Huacachina isn't just a village like any other and is built around a lagoon in the middle of the desert giving it its name The Oasis of America.
Before arriving in Huacachina we had booked at the Mossone Hotel and I did see some picture of the hotel before arriving there but I guess they could never translate the beauty of this place.
Hotel Mossone is placed in the middle of these giant sand dunes from which you can look out over the city of Huacachina in the distance.
The hotel is built around this beautiful lagoon covered with palm trees and beautiful gardens. From the hotel our room had an spectacular view of the desert oasis and we could see the people peddle in their little boats on the lagoon from our bedroom window. Looking a bit further the high tips of the sand dunes dominated the skyline, almost surreal!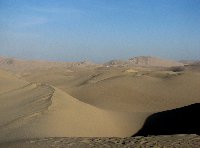 Travel Ica
We had an amazing stay in Huacachina and went sand boarding, canoeing on the lake and we signed up for a desert jeep safari which was totally the best. Our driver was so much fun and he really made us feel at ease as we raced down this enormous sand dunes. The tour finshed around sunset which made the whole desert even more beautiful.
I didn't check other hotels at the Huacachina Oasis but I'm sure that the Mossone will give you your ideal holiday at this magical desert lagoon.