October 18th, 2010
The Kruger National Park is the most visited game reserve in South Africa and a beautiful place for a camping safari trip.
Before travelling to South Africa I knew I wanted to do a wildlife safari trip and since I love being outdoors and camping I had already figured out a way to combine all these things.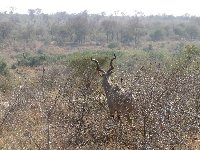 Travel Mpumalanga
With my best friend I tried to plan some of the trip but we kept a lot of stuff open as well to be able to change itinerary when we would feel like it.
The Kruger National Park was absolutely amazing, the wildlife was so raw and so upclose that it was hard to believe we were actually standing in front of such an incredible scenery.
As for the camping facilities in the park they were really good and one of my favourite places would be the Tamboti Tented Camp, right in the heart of the Kurger Park with a view that ust can't be described.
We had our own cabin with two beds which was really comfortable and enough parking space for our 4wd:) The view from the veranda was ridiculous and at night you could sit there for hours listening at the bush sounds. From Tamboti Tented Camp we drove through the Kurger Park to other camping sites like the Bushpacker Campsite in Hazyview.