November 23rd, 2010
One of the most secluded places on the coast of Western Australia is Cape Naturliste which is the northernmost point of the Leeuwin-Naturaliste Ridge and is definitely worth travelling to.
At Cape Naturaliste you'll find the Leeuwin-Naturaliste National Park with some amazing stretches of beach and not a single tourist around.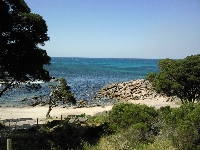 Travel Guide Cape Naturaliste
Not too far from the park's entrance we found this amazing beach bar called the Bunkers Beach Cafe, a gorgeous and modern bar with a beautiful wooden patio where you can enjoy some of Australia's best wines.
Cape Naturaliste was a stop on the way to Margaret River, the wineregion of Western Australia, if not Australia and you could taste the difference in quality right away.
Of course you could drive straight to Margaret River without making a stop at Cape Naturaliste but you would be missing sipping the wine on a beach like Bunkers Beach and I can tell you that the combination makes your lunch taste even better!
Bunkers Beach Cafe also has a great menu as for lunch and dinner but unfortunately we had to get back on the road, but not without a relaxing time on the beach and a short hike up to the Bunker Bay Lighthouse.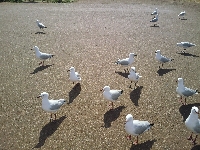 Travel Guide Cape Naturaliste
As for the Cape Naturaliste-Leeuwin National Park we only spend an afternoon there but if you're interested in spending more time you can camp overnight or do one of the challenging cape to cape hikes between Cape Leeuwin and Cape Naturaliste.
Wat a gem this place is! Make sure to make the turnoff when driving south from Busselton or Dunsborough and add an afternoon to your travel plans because you'll love it at the cape!