May 12th, 2011
The third destination I will describe in my travel blogs is the city of Anuradhapura located in the heart of northern Sri Lanka and about 200 km away from Colombo on the county's west coast.
Anuradhapura is a very popular destination with travellers because of its many archeological sites and rich history as it was one of the ancient capitals of Sri Lanka and today it's the place to head to if you wan't to learn more about Lankan civilization.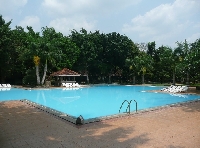 Travel Experience Anuradhapura
Where to start? During my time in Anuradhapura I stayed at the lovely Palm Garden Village Hotel where I had a lovely room and was able to use their many services like the relaxing pool.
Like I said there are many ruins to admire and besides the more modern looking Ruwanwelisaya Stupa, which on its own is a reason to visit Anuradhapura for its unique architecture and Buddhist importance, you will need a few days to completely explore all of this city's wonders.
The pools of Kuttam Pokuna for example date back to the days of the ancient kingdom of Anuradhapura and are a beautiful example of the Lankan civilization as it comes down to hydrological engineering and of course the art of decoration.
The Jetavanaramaya Stupa located in the Jetavana Monastery, the ruins of Abhayagiri Dagaba, the Samadhi Statue at Mahamevuna Park and many more sacred sites show that Anuradhapura breaths Lankan civilization and as a visitor I can say that this city was one of my favourite places in Sri Lanka for its mystical and serene atmosphere.