December 19th, 2009
Mackey is all about the huge Eungella National Park on its western hinterland and the numerous beaches just north of town.
The beaches north of Mackay can be devided in dog beaches and those where you're not allowed to take your dogs on the beach. Unfortunately we spotted dogs everywhere on the beaches and weren't that charmed by the way people just let them run around.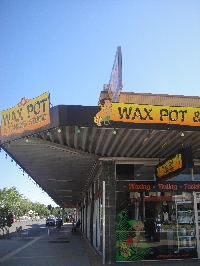 Mackay town street panorama
Especially at Eimeo Beach, Blacks Beach and Bucasia Beach which are about 16 km north of town, there were a lot of people with their dogs and we decided to forget about getting a tan here when the dogs started to inspect or bathing gear..
Eimeo Beach is a nice drive from town but driving on Mango Drive rewards you with some great scenery as you pas hundreds of mango trees.
From Mackay you can do different tours or day trips to the Eungella National Park and a popular activity is the platypus spotting at Broken River. The platypus spotting tour leaves at 5 am from your Mackay accomodation and will cost you a 100 AUD pp.
The Eungella National Park is also known for its waterfalls and rainforest walks. You can even decide to go rainforest flying sitting on a 340 m long harnassed cable. Just be sure you're not afraid of hight or bats. The forest flight will cost you 45 AUD pp.