December 29th, 2009
5 Star The Sails in the Desert Hotel has several bars and restaurants.
1 Kuniya Restaurant
This is the premier dining venue and the Kuniya is known for its modern menu with both traditional as contemporary dishes. The setting is elegant. Bookings are essential and can be made at the reception desk of any given Ayers Rock accomodation.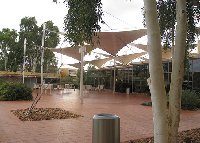 Sails in the Desert Hotel in..
2 Winkiku Restaurant
This restaurant does both breakfast and dinner. Dining is more casual and guests can enjoy a seafood buffet as well.
3 Rockpool Restaurant
Great for tapas and nice views over the pool.
4 Tali Bar
This is the Sails in the Desert Hotel bar which overlooks the hotel pool and offers both lunches and sandwiches during the day as cocktails by the pool at night.
The Sails in the Desert Hotel has a wireless internet connection, tennis courts and is close to the Mulgara Art Gallery.
Next to the hotel is the Ayers Rock Resort Amphi Teathre where people can gather during events.
The Resort Shopping Centre is located next to the Lost Camel Hotel, next to Sails in the Desert, and can be reached by free shuttle.
Prices are pretty high and especially in the high season you will expect to pay for what you get! Here are some prices from the ayers rock resort website valid for the period from the 1st December 2009 - 31st March 2010.
Standard Room $480 per night
Spa Room $556 per night
Deluxe Suite $890 per night
For package deals just take a look on their site.