March 29th, 2017
Island Park, Idaho is one of those cool gems that you find and can't wait to go back to. It is up in the mountains surrounded by mountains and pine trees. The local information signs along side the road actually say that Island Park use to be a volcano that has been dormant for thousands of years. It got the name Island Park because the main part of it is encircled by rivers. So, in a sense creating an island. Because it was an old volcano when we go for four-wheeler rides you will see lots of volcanic rock around. We even found a huge chunk of obsidian on time.
This most current trip was awesome. We rented out a couple of cabins like we always do, but it was different this time. The peoples cabin we rented not only came with beautiful cabins to stay in. They also came with the side of a mountain that we got to play on. We brought snowmobiles with us and some other fun winter toys.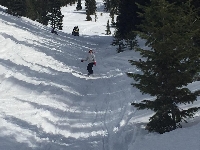 Travel Island Park
The property that these cabins reside on use to be an old ski resort. We know this do to the informational book that was in one of the cabins. So there were all these runs that we had unlimited access to. It is hard when going snowmobiling in Island Park because it gets so much traffic that all the snow has been hammered by other visitors. That when we go there, there isn't a fresh place to play in.
We had a blast having the whole mountain to ourselves. We snowmobiled on it, snowboarded, skied, snowshoes, cross-country skied, and brought sleds for down hill sledding. It was the best time my family and I ever had staying at a cabin. Like I said earlier is that the best part was we had it all to ourselves.
The cabins that we stayed at are owned by Two Top Trading co. it isn't like a normal business. They only have two cabins, and the rates for them where super cheap, compared to the other cabins around. Another great feature is that they are only 19 miles away from the gateway to Yellowstone national park. You can rent these cabins by going to there webpage at twotoptradingco.com/
There is lots to do in Island Park. What I like about twotoptradingco.com/ webpage is they have a list of places to eat in the area, and also list some activities to do in the area. Our vacation was awesome, and I thought I would just share it with everyone else.