December 31st, 2009
The Great Sphinx of Giza, near Cairo, in Egypt is one of the most impressive places on my journey through Northern Africa and the greatness of it will keep you gazing.
The Sphinx of Giza is the oldest sculpture in the world known the mankind and represents the Sphinx, a powerfull sculpture with the head of a human and the body of a lion that sits high and overlooks the westbank of the Nile.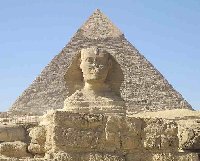 The Sphinx of Giza near..
The Sphinx is built to the north east of the Pyramid of Khafra, the second largest of the Ancient Egyptian Pyramids of the Giza and the tomb of pharaoh Khafre.
To get an idea of the greatness of this massive sculpture, it's body is over a 70 meters in length and over 20 meters tall. The face of the Sphinx is about 4 meters wide and the eyes of the sculptures are 2 meters tall.
You can take a guided tour to the Ancient Pyramids and visit the Great Sphinx of Giza. In general these tours will take up to 3 or 4 hours so you'll have enough time to walk through this amazing valley. You can also take a private tour from Cairo and decide yourself how much time you want to spend in Giza.