January 1st, 2010
Pisa is a short drive from Siena and world famous for its leaning tower. The 8 stories Pisa Tower which originally was intended to stand vertically started to lean over due to a bad laid foundation at the time of construction and became the city's major draw card beacuse of it.
In total the Pisa Tower is about 55 meters tall and lead counterweights had to be laid next to the tower to keep its weight balanced and keep the tower from falling over.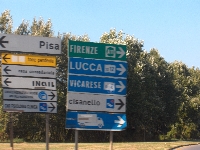 Roadtrip from Siena to Pisa
Pisa on itself has a rather small city centre and the main focus is drawn to the central square, Piazza del Duomo. Here you'll find the leaning tower of Pisa, the Duomo Cathedral and the Baptistry.
The Duomo is known to be the heart of Pisa and a lot of tourists come to Pisa to take pictures of its amazing interior. The coffer seiling and the gorgeous mosaics inside the Duomo are definitely worth a visit.
The Baptistry, next to the Duomo, is the largest in Italy and its circumference measures up to over a 100 meters. When you're in Pisa to take a look at the leaning tower these other two attractions won't go unnoticed.