January 7th, 2010
After arriving at Bermuda International Airport on the island of St George we took a taxi to Hamilton on the main land. Hamilton is the capital of Bermuda and one of the two districts on the island next to St George which used to be the the capital of Bermuda until 1815.
You can get from St George to Hamilton by driving over the Causeway, a bridge build between the island and the main land.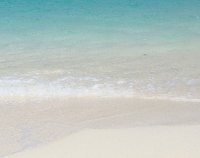 Crystal clear water in..
Off the main land, when located in Hamilton, the islands of St George in the north, Somerset in the west and Saint David in the north east can be accessed by boat and visited during day trips. Around these islands you'll find some of the most stunning beaches with crystal clear waters and soft white sands.
An exception would be the long stretches of Pink Beach located on the eastern coast of the island close to Tucker's Town. Here the coloured sands turn pink and reddish with the changing position of the sun. Especially at sunset this is a beautiful place to take pictures.
In town some important buildings to visit include the Hamilton City Hall, The Hamilton Cathedral and of course the town Front St with all its colourful buildings and shops.