January 21st, 2010
For our honeymoon me and my wife went to Mexico to spend two weeks of total relaxation. We booked our hotel in the beach resort town of Cancun on Mexico's south eastern coast overlooking the Caribbean.
The hotel was great and we spend a lot of time enjoying their facilities and relaxing on the stunning beaches of the Riviera Maya. We did wanted to do some sightseeing around Cancun and were very curious about visiting the Maya ruins of Quitanana Roo in Tulum, at the southern tip of the Riviera Maya. The hotel staff helped us book a tour so we didn't have to worry about renting a car to get to the Maya site.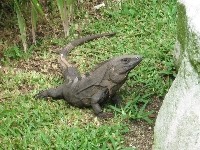 Perentie Monitor Lizard in..
The Tulum ruins are the third most visited archeological site in Mexico after Theotihuacan and Chichen Itza. The site of Tulum is one of the best preserved historic treasures and most of the Maya temples and constructions are still in a very good state. I personally liked the Temple of the Frescos which is considered the most imporant building at Tulum. The space inside the temple is divided by four colums and decorated with Mayan frescoes and carvings. There are three levels which seperate the Temple of the Frescoes in a dark underworld, the middle floor which represents the living and an upper lever reflecting heaven.
Surrounding the temple you'll find similar carved and decorated most extraordinary part of Tulum is definitely its location. The archeological site is situated on the high cliffs, at about 50 kms south of Playa del Carmen overlooking the Caribbean which turns this green valley into a magical ancient place.
Other important Mayan ruins include El Castillo located on the highest cliff of Tulum. This temple looks like its placed on top of a pyramid made out of stairs which has been constructed in different time periods. Unfortunately you can't climb El Castillo because of its important historical value and the many tourists that visit it daily.
On our way back we were even lucky to spot this huge perentie monitor lizard between the bushes which completely made our day. There was plenty of time to make pictures and the tour even included a nice lunch on Tulum Beach.