February 5th, 2010
Gallipoli is a beautiful fishermans town on the western coast of the region Apulia with a stunning seaside. Driving through the south of Italy you could easily combine a trip to Gallipoli with a visit to the city of Lecce or on a road trip further south.
Gallipoli is located in the province of Lecce and faces the Ionian Sea on the left side of the Salentina Peninsula. The town itself can be divided in two parts, a modern Gallipoli and the older city constructed on a limestone island which looks out over the harbour.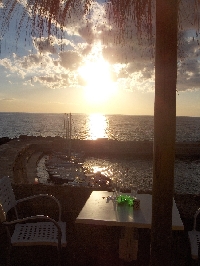 View from our B & B La..
The older city of Gallipoli is popular with tourists and especcially during the summer months when a lot of local festivities, sagre and markets are being held in the streets around the island.
The best way to explore Gallipoli is by walking around the island starting at the main harbour and following the Riviera Cristoforo Colombo, the Riviera Nazario Sauro and the Riviera Armando Diaz. These esplanade streets follow up on eachother around the island of the old city centre.
You will be able to park your car near the street of Lungomare Guglielmo Marconi just after you have entered the older city of Gallipoli. On the riviera you will find plenty of nice bars and restaurants where you can enjoy a drink or a great meal while you enjoy the sunset over the harbour. Walking around you will notice several small alleys which lead to the main square of Via del Duomo where you will find the Cathedral of Sant'Agata. This is also the most central point of Gallipoli where all the festivities are held.