February 10th, 2010
The Moofushi on Ari Atoll, one of the many islands of the Maldives is my version of paradise on earth. Stunning white beaches, beautiful ocean waters with a temperature of 28 degrees and colourful fish everywhere! This place truely seems like the perfect scenery for every cinema production.
When I arrived on Ari Atoll from Male the island seemed unrealistic and to good to be true and after spending 15 days at the Moofushi Resort I felt the same way, leaving something behind that wasn't real, like I dreamed it all.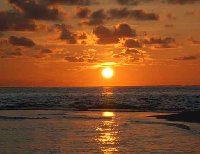 Sunset over Moofushi Resort
The Moofushi Resort was a perfect place to stay at and the food was fantastic. We ate fresh seafood everyday which was caught right before eating time and cooked at our table! The fish is that good that even the fisher men of the surrounding islands come to Ari Atoll to catch their fish. The cooks came up with the most delicious dishes, amazing spices and fresh ingredients.
Ari Atoll is a pretty small island and you could walk around it in 15 minutes. Some people might miss the lively bars and other forms of entertainment but we loved it here and finally got our total relax.
Moofushi was named after its mangroves and literally means Island of Roots. The mangroves that surround the beach are beautiful and the green of the leaves contracts beautifully with the clear blue waters. Ari Atoll is also a great place to spot marine life and besides the many colourful fish swimming around the islands coral reefs you will find manta rays twice your size and als some smaller reef sharks which are pretty harmless but really beautiful.
We had an unforgettable stay in the Maldives and enjoyed the beautiful beaches to the fullest. The isolation from all other chaotic touristic places made us feel completely relaxed and we hope to go back some day.