February 17th, 2010
I have never been to a travel destination like the Maldives before and to me it simply was a paradise on earth! The first sight of the Giravaru Island where we arrived after a 20 minutes boat ride was almost shocking and had a huge impact on me.
Giravaru is a small island resort on the Kaafu Atoll, near Male, the capital of the Maldives and you could probably walk around it in few minutes.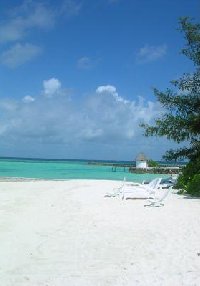 Holiday photos from the..
Giravaru has a beautiful vegetation and even more beautiful beaches. The sand is so white and you can cool off in the shades of the many palm trees which are full of coconuts. It made me just want to grab a coconut to taste it, something which is illegal on the island and you actually can get a 20 dollar fine for doing so. Of course I had to do it anyway so the perfect time was just before sunset:)
The beaches of Giravaru are amazing and the waters so crystal clear. You should definitely go snorkeling the barrier coral reef which are gorgeous. The rest of your time you should enjoy the beauty of this island and relax while you work on your tan!
The Giravaru Resort offered several tours and trips to the coral reefs and you could also go spearfishing, visit the fishermen island or take a trip to the fish market in Male.
The thing about the Maldives what amazed me the most was the brightness of the sky, especially at nigh when you could see a million stars shining in the sky. I had never seen so many bright stars in my life!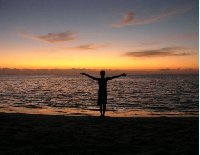 Amazing sunset panorama's
The sunsets are almost magical as the plankton organisms attach themselves to the shore and lit up at night turning the whole beach into this glowing wonderland. Adding all the pink and violet shades of the setting sun to this panoramic image, the total result is just jaw dropping!
A holiday to the Maldives is definitely very romantic and I would definitely recommend it as a travel destination. On our last night we had a candle lit dinner on a palm beach underneath the Giravaru skies and that whole evening is still one of the many memories I will never forget. The Maldives really are a magical place!