March 10th, 2010
It took about ten hours to get to Niagara Falls in Canada but the long flight was definitely worth it!
I travelled to Canada with team and the first days I didn't get to see a lot from the country because we had several matches.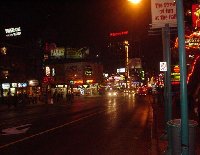 Niagara Falls by night.
The days after that we got some time off and I finally got the chance to explore the city of Niagara Falls, which to me looked just like those places you see in the movies with those enormous cars, wide street lanes and fast food restaurants on every corner.
The houses were really pretty and spacious, all with a little garden or private lawn. To me it felt like a completely different world!
The following days I tried to see as much from the city as possible and we also discovered a lot of nice shops, restaurants and pubs.
The best part of our stay in Canada must have been the trip to the Niagara Falls, which was truly amazing and we even spotted a rainbow right through the waterfalls!