March 13th, 2010
I didn't really go on a holiday to Miami, at least not the first month of my stay, because my main goal was to find a job.
I have been a professional bartender for over ten years now and the best place to practise this job, as in the place where you make the most money, is in the United States.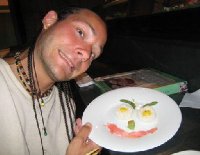 Great sushi restaurants in..
Once I found a job and I started to make some money I actually got the chance to have look around and not just in the bars, eventhough South Beach is full of great bars and clubs.
The climate in Miami is perfect and it's a great place to go to the beach and spend a relaxing day under the sun to work on that tan!
I would recommend to spend at least three week in Miami and if your plan is to stay for a longer period of time teh best thing to do would be to contact a real estate managar to arrange for a condo.