March 14th, 2010
We left for Dermulo on the 29th of Dicembre where we stayed for the New Years celebrations and returned on the 2nd of January.
Eventhough it was a short holiday and we only spend a few days away from home we really had a great time.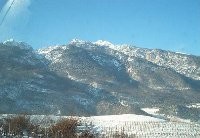 Winter holiday in Norther..
We stayed at a hotel in Dermulo but went skiing in Andalo, that is, the others went skiing because unfortunately, due to a knee injury, I couldn't partecipate in all the winter fun.
We visited some amazing places and had a great holiday. The climate can be cold but it didn't really bother us very much. The hotel we stayed in was called the Victory Hotel and was very convenient.
The rooms on the other hand were really tidy and most of the decoration seemed new, we even found the plastic tags still on top of several power cables.
Andalo is a small town but very nice to visit and especially if you like to fo skiing or snowboarding it's a perfect destination. At night you can enjoy yourself in one of the local bars and clubs.