March 22nd, 2010
For this holiday I decided to go on a trip to the Italian islands of Ischia and Capri.
It took me seven hours by train and three hours by boat to reach the port of Ischia but the trip was definitely worth it and the amazing waters that welcomed me made me feel at home right away.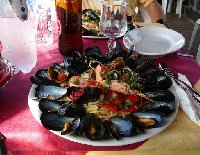 A great plate with spaghetti..
I would recommend a holiday to the vulcanic island of Ischia to anybody who is looking for a calm and relaxing vacation becausing staying here works almost like a regenerating treatment!
For those how prefer to go VIP spotting Capri is a better option and the chance to run into some television celebrities is pretty high.
I prefered Ischia so I spend my first seven days there between mornings at the beach and afternoons at the thermal baths while the following three days were dedicated to Capri.