Autumn Stay in New York

19 October 2011
Autumn is a great time to visit New York as there will be less tourists than in September or December and you can enjoy the changing of the seasons in the best city in the world! I travelled to New York in the second week of October so before the Halloween rush and I guess booking your stay will already cost a lot more at the moment. Maybe New York is always pretty but I definately prefer Spring...

Ancient City Polonnaruwa Sri Lanka Tour

19 October 2011
Travelling from Colombo and passing Pinnawala I continued travelling in eastern direction and had crossed the centre of Sri Lanka when I reached Polonnaruwa. The ancient city of Polonnaruwa is an important site in Sri Lanka and has been declared a World Heritage site by UNESCO as it is home to the ruins of an ancient Sri Lankan kingdom. The ruins of Polonnaruwa date back to the Golden Age of...

Trip to Pinnawala Sri Lanka

19 October 2011
The elephant orphanage in Pinnawala which is located northeast of Colombo and will take a bus or train ride to get there is a great opportunity to get up close and personal with the elephants. You can even help their trainers bath them and take pictures of the little elephants with their mothers. The downside would be the many tourists who will probably share your passion for these beautiful...

Sightseeing in Colombo Sri Lanka

17 October 2011
Colombo is the capital city of Sri Lanka and on your trip you will most likely arrive here and maybe spend a few days of sightseeing. On my journey to and through Sri Lanka I have tried to see and experience as much as possibile but of course you tend to visit the places that others recommend or have visited before you. Some of these places in and around Colombo will be the coastal area, the...

Trip to Coastal Malahide Ireland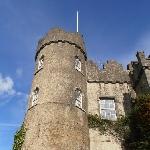 17 October 2011
Me and my husband fell in love with the beauty of coastal beauty of Ireland many years ago and one of our favourite places to go and enjoy the outdoors is the town of Malahide not too far from Dublin and therefor also a great destination for a daytrip of weekend away. The town of Malahide is know in the first place for its number one visitors attraction, the Malahide Castle but you will soon discover...