18 August 2017
...

20 June 2017
Www.toursmarrakechtofes.com is a nomad travel agency based in Merzouga Sahara Desert of Morocco, we organise all kind of tours around Morocco, Day trips from Marrakech, Grand Tours of Morocco, Marakech to Fes Desert Tours and from Fes to Marrakech. Camel Trekking and overnight in Desert...

23 April 2017
We had a great time on the 4 day Sahara desert tour with Traveling in Morocco. We booked the tour won very short notice and they were responsive and able to accommodate us with no issues. As we were already in the country and did not know how/want to wire the deposit through Western Union, they sent a staff member to collect the deposit from us in person at our riad, which made it very hassle-free for us once we had confirmed the tour - all we had to do was show up. During the tour, Mohamed (who we had corresponded...

22 April 2017
...

29 March 2017
Island Park, Idaho is one of those cool gems that you find and can't wait to go back to. It is up in the mountains surrounded by mountains and pine trees. The local information signs along side the road actually say that Island Park use to be a volcano that has been dormant for thousands of years. It got the name Island Park because the main part of it is encircled by rivers. So, in a sense creating an island. Because it was an old volcano when we go for four-wheeler rides you will see lots of volcanic rock around....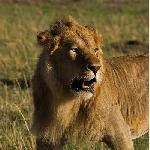 20 March 2017
My group of Indian friends from USA did a 10 days safari in Kenya with Arica Venture Safaris, the trip was good and we really enjoyed. Gujarati meals was there in plenty as we wanted and the lodges were just awesome. Below is the luxury safari holiday we did: Highlights CITIES NIGHTS SITESEEING & ATTRACTIONS Nairobi 1 Overnight stay Ngorongoro 2 Game Drive Serengeti 2 Game Drive Masai Mara ...