April 16th, 2010
The Swayambhunath Stupa and its surrounding monastery is an important sacred site in Kathmandu, the capital of Nepal.
The Swayambhunath Stupa is also referred to as the Monkey Temple named after all the playful creatures running around the steps leading to the top of the monastery.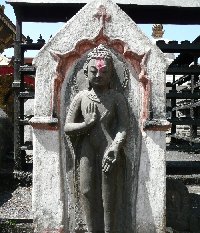 Photos of Swayambhunath..
The steps of this sacred hill will lead you all the way up to the golden stupa of the the temple but will offer great panorama's on the way as well.
Several Buddist altars and statues make for a perfect picture break and a way to meet some locals as this is not just a popular touristic attraction.
If you're lucky you will be able to photograph some of the baby monkey's sitting on top on the statues posing for some attention.
At the end of the stairs you'll realize the climb has been worth the effort because the view from up here is spectacular. Especially around sunset when the last rays of light make the golden shrines lit up even more this place is simply magical!
The Eyes of Buddha, painted on all four sides of the golden stupa, are amazing and the decorations on the stupa are testimony of a masterpiece.
Near the Temple of Swayambhunath in Kathmandu you will find the Temple of Harati, the Hindu goddess of epidemics. This sacred place brings together both religions as Buddhists pray to Harati as well.