April 18th, 2010
The Kafue National Park is the largest game-reserve of Zambia and one of the largest wildlife parks in Africa. Here you're chances to spot some amazing wildlife are relatively high and the game safaris are very good.
There are several lodges where you can stay during your visit to the Kafue National Park, all depending on you personal budget.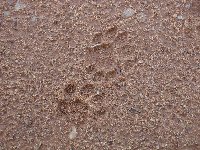 Lion footprints at Kafue..
We decided to book a safari excursion from Lusaka, the capital of Zambia, because we wanted to visit some rural village and stay a couple of nights in a game-reserve lodge.
The lodge we stayed at was called the Puku Pan Safari Lodge and we had a great stay. The wildlife safari in Kafue was amazing and a beautiful experience.
We saw all kinds of animals from elephants, zebra's, buffalo's and impala's to warthogs and hyena's but the best pictures we made were of this gorgeous lion sitting right in front of our jeep!
We also did a night gamedrive safari which was even more adventurous and we did a fishing tour on the Kafue River where, besides the fish, we spotted a lot of hippo's and crocodiles.