May 31st, 2012
Cannes is the perfect place to enjoy a classy beach holiday. I have been working on a cruise ship docked in Cannes and I had an incredible opportunity to explore the beautiful waters of Cannes and meet so many interesting people.
I would also advise tourists to consider organizing boat trips or a cruise to explore the waters and islands surrounding the glamourous city of Cannes because the views from the water will leave you breathless.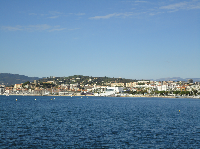 Travel Blog Cannes
For example a trip to the nearby Lerins Islands is a beautiful experience you will not forget.
I stayed at the gorgeous Carlton Hotel in Cannes which made my stay unforgettable and the staff was amazing!