March 28th, 2010
In July of 2006 I went to France with a friend of mine to visit the cities of Nice and Menton.
The holiday was great and we had a lot of fun. We went from Italy to France by train and luckily my friend's uncle came to pick us up as soon as we arrived in France.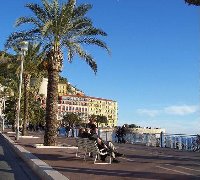 Where to go in Nice
Nice is a very clean city with a nice climate and very friendly people. Besides Nice we also visited Montecarlo with its famous casino and nice beachside.
I remember this enormous hotel which consisted in four levels and a large club area at the top of the building, pretty impressive and there is nothing like watching over Montecarlo while you dance the night away!
It was a great holiday but we decided to avoid another 18 hour train ride and took the plane back home.