May 31st, 2012
I would like to recommend the Radisson Hotel in Nice because me and my fiance had an amazing stay there and especially the terras with the views of the beach is amazing.
We loved sitting here for lunch as plains flew over and we had the most incredible view of Nice making our holiday here even better.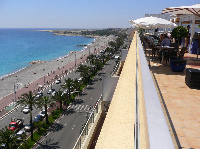 Vacation in Nice
We also went to see the Cannes Festival and had this amazing white limo to take us there which made the whole event even more glamourous!