June 23rd, 2010
From October 2009 I travelled for a total of 5 months from Ghana through different countries on the southern coast of West Africa like Togo, Benin, Burkina Faso and also Mali.
Throughout my travel blogs I'll describe a highlight of every country I visited starting with Ghana where my African adventure took off.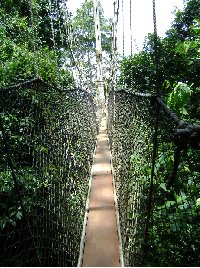 Where to go in Cape Coast
In Ghana I went to the Kakum National Park on the Cape Coast which is known for its beautiful canopy walkway which will take you non a walk through the jungle of the Kakum National Park and offer you the perfect opportunity to take pictures of some of Ghana's purest fauna and flora.
Cape Coast is the capital of the Central Region of Ghana and situated in the south of Ghana on the Gulf of Guinea. To get from the Cape Coast to the Kakum National Park in the north of the Central Region you can organize several canopy walk tours or rent a car and head there yourself.
In the Kakuk National Park you'll be able to spot wild monkeys or take your pictures with the crocodiles that inhabit the lagoon below. Mind your steps on the canopy walkway!