December 3rd, 2010
I just came back from an unforgettable experience in Ghana where I volunteered at the Nkoranza Children´s Orphanage. The whole experience, both working with the children at the orphangae and discovering a completely new country like Ghana, has been overwhelming.
It was so rewarding to change the lives of those children for the good and being able to play with them and teach them new and fun things.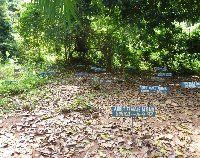 Vacation in Nkoranza
Nkoranza is located in the mid north of Ghana and we also went on different field trips to for example the Kintampo Waterfalls and the Boabeng Fiema Monkey Sanctuary which was a big success.
Visiting the monkeys was a lot of fun and the area aroun Kintampo is very beautiful. In the weekends I also visited Sunyani which is the largest and capital city of the Brong Ahafo Region.