July 13th, 2010
The Gobi Desert is located in the continent of Asia but is divided between two nations; Mongolia and China. Most people who travel through the Gobi Desert combine a trip to Mongolia with a visit to the northern region of China where the Gobi Desert crosses the mongolian and chinese border.
The climate in this part of Asia can be quite rigid with extreme temperatures in wintertime and the best period to travel to Mongolia therefor would be around July or August when the climate is more mild and reaches temperatures up to 18 and 20 degrees.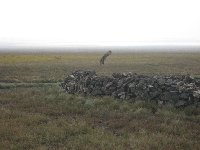 Travel Blog Kharkhorin
We visited Mongolia in July and had prepared for a Gobi Desert Expedition. Our group consisted in about 8 people, all backpackers, looking for a true mongolian experience.
The plan was to cross Mongolia from the North to the South covering the Gobi Desert and camping with herder families in their traditional Gers, which are tents built to resist the harsh climate that the Gobi Desert faces throughout the year.
The people we stayed with were amazing and so incredible generous that we felt at home wherever we moved to. During the day we went on camel or horse rides but also hiking was a major activity and a great way to explore the territory.
Near Kharkhorin we visited the Erdene Zuu Monastery which was really beautiful and definitley worth a visit. The monastery is an explosion of colours which constrasts beautifully with the sometimes green sometimes greyish desert plains.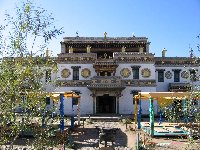 Travel Blog Kharkhorin
Inside the Erdene Zuu Monastery we took some photos of the Buddhist Statue which is located inside the temple and we gazed at the gorgeous Golden Stupa.
Besides Kharkhorin we also visited its neighbour Karakorum, known as the capital of the ancient Empire of Mongolia and today a popular place with tourists visiting the stupas around the Erdene Zuu Monastery, a World Heritage Site that covers both Kharkhorin as Karakorum.