October 14th, 2010
Welcome to part two of our touring New Zealand travel blog. Last time I wrote a blog about Kaikoura, the beautiful town on the east coast of New Zealand's South Island.
This time Rotorua is on as it's the first town we visited on the North Island and it's a place that can't be missed if you wan't to really explore New Zealand.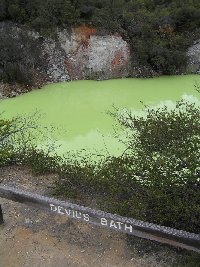 Holiday in Rotorua
Rotorua is the heart of the Maori culture and the old New Zealand traditions and customs all lead back here as Rotorua is known as the place where Maori first settled.
Today Rotorua is a very popular travel destination for both New Zealanders as tourists who come here to tour some of the Rotorua's curious and exciting attractions.
Besides doing some sightseeing around town we wanted to learn more about the thermal wonderland that is Rotorua and about a place known as Wai-O-Tapu, an active geothermal which keeps drawing visitors.
The thermal site of Wai-O-Tapu is located within the Taupo Volcanic Zone about 30 km south of Rotorua and forms a popular day trip travel destinations from people staying in this part of New Zealand.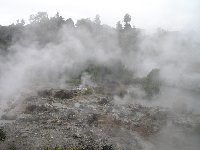 Holiday in Rotorua
We visited the boiling mud pools, the Lady Knox Geyser and the gorgeous but curious Champagne Pool with its orange crater shore and bubbling waters. From Champagne Pool we headed to Devil's Bath a dangerously sounding place but what a gorgeous green pool..breathtaking.
From Wai-O-Tapu and the impressive geothermal area we continued our hot springs adventure to Waimangu Volcanic Valley, another great site not too far south of Rotorua and where we went to see the Inferno Crater and stunning Frying Pan Lake.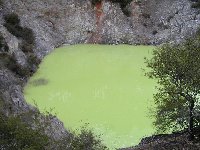 We had a very exciting day trip out of Rotorua and you can easily combine both sites as most touring companies already plan their trips this way. Since we had three days to spend in Rotorua we were glad we were able to do some sightseeing also in great rural sites like these which are situared just a few km away.