November 2nd, 2010
My wife and I love to spend a weekend every now and then on the coast of Napier. Besides a very beautiful city known for its Art Deco architecture, Napier also has somewhat of a sentimental value for us since it was the place where we met eachother for the first time.
Born in Hastings my parents had a second home in Napier, near Hawke's Bay and we spend a lot of holidays and weekends there. As I grew older I found a job in Napier and prefered it over my hometown.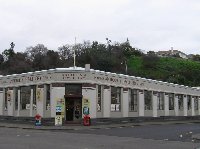 Trip to Napier
It was during Napier's famous Wine & Food Festival a few years ago when I met my wife who at the time worked at a local winery.
It was love at first sight and we have never missed out on our vacation time in Napier!