December 16th, 2010
December is a great month for visiting Stockholm, the capital of Sweden and definately in my top ten of most beautiful cities in the world.
Last week my wife and I travelled to Stockholm to celebrate our anniversary and since we both love this city so much we decided to plan a short city break.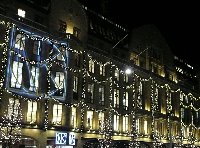 Tours Stockholm
Stockholm is beautifully located at the mouth of Lake Malaren and its just such an incredible place to stay. The city is really clean and Stockholm is known for its beautiful parks but not only that, the entire center is just one big attraction.
Famous for its innovative design and architecture the Swedish show that they know how to preserve traditions and heritage as well. As soon as you take a look at the Stockholm skyline you'll look out over the water from the harbour of Skeppsbron and discover all these amazing buildings.
Walking around Gamla Stan, Stockholm's Old Town, you will discover a lot of interesting things like the stunning buildings on square Stortorget or the narrow Alley of Marten Trotzig.
We loved being in Stockholm again and couldn't think of a better place to imagine a magical winter wonderland.