December 17th, 2010
From Phuentsholing I continued my journey in Bhutan in direction of Thimphu, the captal city and the largest city of Bhutan.
Thimphu is located about 130 km north of Phuentscholing in central west Bhutan. To get there you can travel by bus like I did which was quite comfortable as far as a seven hour bus ride can be comfortable..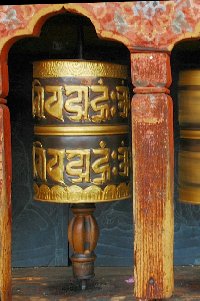 Trip to Thimphu
It sure was an interesting journey and the perfect way to see more of the scenery in Bhutan.
Thimphu has some of the most stunning Buddhist monasteries like the Tashichho Dzong fortress which lies just north of the city and today houses the government of Bhutan.
Places like this are why I travelled to Bhutan, because of their great beauty and sense of peace and tranquillity. Visiting the Tashichho Dzong in its beautiful green setting of the Dzongkha Valley was one of the highlights of my stay in Thimphu.
I also visited the Memorial Chorten, an important sacred Buddhist site of worship in the south of Thimphu. The Memorial Chorten has a beautiful white stupa with golden bells and colourful decorations.
Another tip for travellers to Thimphu would be to visit the Motithang Takin Preserve which is a sanctuary for the Bhutan takin, a moose-like looking animal which is native to the Eastern Himalayas. You simply can't travel to Bhutan without spotting one!