December 16th, 2011
The Thimphu Valley in the western central part of Bhutan is an extraordinary place to spend your holidays and whoever says that you can´t travel to destinations such as Bhutan when you have kids should try it again because our twelve year old son had an amazing travel experience, just like his parents!
We arrived at Paro Airport after a good flight with Druk Air and got to Thimphu for our first day of sightseeing in Bhutan.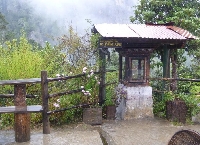 Travel Thimphu
We stayed at the Druk Sherig Guest House which was also perfect and we met some great people to share our travel adventures with.
We did a lot of activities like hiking to explore the surroundings or Thimphu as there is so much to see and admire.
The Buddhist Monastery of Tashichho Dzong is one of the best known tourist attractions, and of course not only that, of Bhutan and a real work of art! It can be found on the northern edge of the city of Thimpu and you should really take your time to visit this magical fortress.
Besides monasteries and sites to visit you can find some nice shops in the lower market of Thimphu where to buy souvenirs or other reminders of your holiday. Make sure to try some local delicious dumplings as well!