February 8th, 2011
After a very nice stay in Dubai and in the United Arab Emirates, where we would return later on, our Deliziosa Cruise continued its journey in direction of the Kingdom of Bahrain.
We docked in Manama, the capital city of Bahrain Island, which is the largest island of the Bahrain archipelago and located east of Saudi Arabia in the Persian Gulf.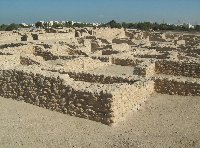 Trip to Manama
Besides a country in full development with the impressive Manama skyline as its main jewel Bahrain also has a lot of beautiful ancient sites to admire like the archaeological site of Saar.
We also visited a traditional camel farm which was a lot of fun and when you're visiting Manama two other sites you shouldn't skip would be the Al Fateh Mosque and the Bahrain National Museum, both really interesting.