October 20th, 2011
Called the Jerusalem of Macedonia this pittoresque city located on the shore of Ohrid Lake is one of my family's favourite places.
We had discovered Ohrid on a trip through Macedonia many years ago when we had to visit this city known to have a church for every day of the year, that's 365 churches!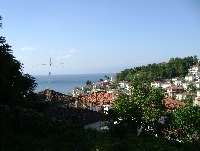 Tours Ohrid
From a must see for its unique architecture we upgraded Ohrid to our favourite holiday destination as soon as we discovered the boat trips on Ohrid Lake and the serenity of the city.
Some people may find Ohrid too quite for a summer holiday but at least have a look at this lovely place for example on a day trip, or weekend away from Skopje or some other travel itinerary while travelling through Macedonia because you will fall in love with it!