October 24th, 2011
Hi everyone, earlier this month I had the opportunity to go to Kiev with a group of collegues as we were invited to a symposium held in this beautiful city in the northern part of the Ukraine.
We checked into or hotel not knowing anything about Kiev or local customs so in the beginning it was quite the challenge to make our way around the city.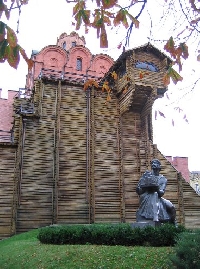 Travel Kiev
The people in Kiev generally don't speak English but they are very hospitable and willing to lend a helping hand. While sightseeing around Kiev we did try to ask shop assistents or restaurant staff for directions and everytime we encountered a person that didn't speak any English they would ask other people in their shop or restaurant to help out with translations which was really funny.
As for places to visits you will soon discover that Kiev has some outstanding pieces of architecture and beautiful churches sqattered all over Kiev city. One of the most impressive sites to visit would be St. Michael's Golden-Domed Monastery at Mykhailiv Square located on the right bank of the Dnieper River and an incredible eye cather.
Other sites that I would recommend include the Mother Motherland monument, the Ukraine version of the Statue of Liberty as we liked to call it which is part of the Museum of the Great Patriotic War, Maidan Nezalezhnosti or Indepence Square and maybe a ride on the Kiev funicular.
Of course there are many more interessting sites to visit but the best thing is to explore the city while you're there and not rush from one place to another!