May 31st, 2012
For my fiance our time in Monaco during the Formula 1 Grand Prix de Monaco could not have been planned better! The entire city was filled with amazing race cars and luxury vehicles that we could not stop taking pictures!
A trip to Monaco is completely different from visiting Paris or Nice but it will be an experience not to ever forget because it's truly spectacular.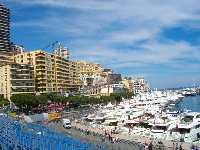 Tours Monaco
We also went to the casino of Monaco and even had some luck with the roulette!!
A beautiful place to visit and the Grand Prix de Monaco is definitely an amazing event to witness once in a lifetime.