March 3rd, 2010
Montecarlo would be the magic wonderland of Europe and walking around in that city you can literally feel your jaw drop!
Every two seconds you will see a Ferrari or Lamborghini sportscar driving by and luxury definitely is the key word to this travel destination.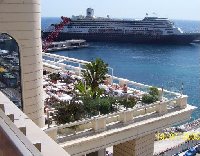 View from our hotel in..
Montecarlo is an amazing place to visit with a pleasent climate and the possibilty to relax on the beach. The hotels and resorts are all very luxurious and restaurants like Cafe de Paris, are no exception to that norm.
The casino is very impressive and I immediately started taking pictures of the million slot machines surrounding me. Unfortunately the security of the casino errased all my photos and I was told that I could not take pictures inside the buidling..
The harbour of Montecarlo is one of the most special places and the colours of the water are amazing. You will see these immense yachts and boats that look more like cruise ships!
You do feel a bit like you're walking on a Hollywood filmset but Montecarlo is defintely a place you have to visit once in your life!