January 5th, 2010
The Nacional Nahuel Huapi Park is situated in Patagonia in the foothills of the Andes and one of Argentina's best kept secrets. Ok, it'n no secret but there could be more tourists if it wasn't so cold.
The city of San Carlos de Bariloche lies within the borders of the Nacional Nahuel Huapi Park and is the main tourist hot spot from where people go and visit the lakes of the park. There are several turqoise coloured lakes which make you realize how huge this park is. In total the size of The Nacional Nahuel Huapi Park covers over a 7000 km2! So it's not hard to imagine we didn't hike around all the lakes.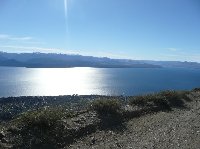 The nature around Bariloche
The most famous lakes are the Nahuel Huapi Lake, the Moreno Lake, the Gutierrez Lake, the Traful Lake and the Guillelmo Lake.
But if hiking is not adventurous enough, you could also explore the national park on a set of ski's and jump of the Cerro Catedral. This is the highest peek in Nahueal Huapi and about 2300 meters high. There is a well known ski resort on Cerro Catedral so there will be a chance you won't be the only one skiing down the parks hills.