January 7th, 2010
The city of Aden lies within the crater of an old volcano and looks out over the Indian Ocean. To get here from Sanaa by bus is probably better than driving yourself. Aden lies about 360 km south of Sanaa but the bumpy road makes it hard to drive faster than 60 km/hour which with a bit of math..will take you 8 hours to get there!
After a very tiring journey we finally arrived in Aden longing for a bed and something to eat. Poor us!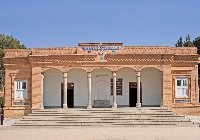 The Zoroastrian Temple in..
Aden, this we realized the day after the bus ride, is actually well worth a visit because the town is situated around an extinct volcano and the towns harbour lies within the crater of this volcano. The area around the city port is actually called the suburb of crater.
In the morning we decided to go for some sightseeing in town. We visited some of the mjor touristic places like the Zoroastrian Temple, the Aden Minaret and the Military Museum.
Now, I'm not the real museum kind of a person but I have to admit I found this one to be quite interesting. The museum used to be an old elementary school but turned into a museum after Yemen was declared an independent country and there is a lot to read and see about the history of the Yemeni people. Inside you can see the weapons and arms used during the revolution against the British and the pictures of this historic moment are really fascinating. Like most interesting places in Aden, the museum is located inside the crater.
The Yemeni didn't destroy every single British thing and one of the old English Churches has become one of Aden's important tourist sight.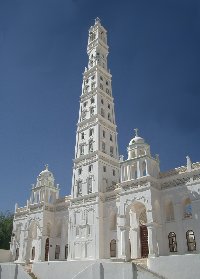 Pictures of the Aden Minaret
After walking through the city we had our share of history and religion and headed to the beach. The beaches in Yemen are really pretty eventhough the water was a bit cold but then again the Western dress codes aren't valid on the beach here!
Especially the women can't be seen in bathing suits or bikini's and wear the same clothes as they do in town. We did see some tourist in their swimwear but decided to respect the local customs and kept our shorts and t-shirts which was pretty brave considered the burning heat.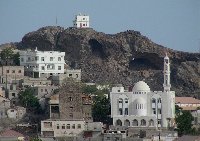 The Volcano city of Aden,..
After a nice Yemeni breakfast which basically consists in a cup of tea, some cheese, bread and a plate of beans we felt strong enough to visit the port of Aden. After a short stroll around the harbour we decided to move back to the beach to cool off and relax a bit before heading back to Sanaa the next morning.