November 26th, 2010
This May the due date of my vacation in Yemen had finally arrived and I was ready to get on that flight to Sana'a, the capital city of Yemen and the first travel destination to conquer.
Together with my mother I had been planning this adventurous trip for a long time and we both were so excited. Because we still were two women travelling in the Middle East we didn't wanted to go backpacking all the way so we decided to book some things ahead and keep others open.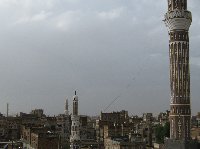 Vacation in Sanaa
After a long flight we arrived at Sana'a Airport, Yemen's international airport but also a place of departure for domestic flights.
We took a taxi ride to our hotel and after a well deserved shower we were ready to explore the old city of Sana'a.
An old in Sana'a means really old as the capital of Yemen dates back to a dynasty that reigned from the 6th century BC. It didn't take us long to fall in love with the old buildings and chaotic city center. Ok, maybe not a place to spend our entire holiday but definately very interesting!
The architecture in Sana'a is unique and I have never seen a style like it. Bab Al-Yemen, the Gate of Yemen, is a great place to enjoy this beauty and get to know the Yemeni people and culture.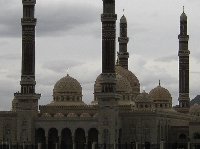 Vacation in Sanaa
We loved the night market at Bab Al-Yemen and found it to be the perfect place to purchase souvenirs to bring back home. Make sure to get your hands on a yambiya, a traditional Arabic dagger which in Sana'a is sold on every street corner and who knows customs might let you get away with it!
Sana'a is filled with beautiful places to visit and I would suggest you spend at least a few days here to visit the temples, markets and hammans which are characteristic of this capital city. But if you want to relax in the park or go shopping at the mall Sana'a is also a good place to stay.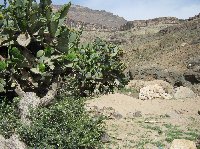 Just like the Old City in general a visit to the large Saleh Mosque shouldn't be missed. The great mosque of Sana'a was named after Yemeni President Ali Abdullah Saleh and is a true gem in the heart of the city.
From Sana'a we also mad a day trip outside of the city to experience the more rural part of Sana'a and enjoy the scenery of the valley and the mountains.