February 11th, 2010
Since 5 years the Al Janana Festival is held in the refugee camp for Palestinian refugees located in the Lebanese capital of Beirut. Artisits from all over the world come to Lebanon to partecipate in creating a theatrical show for the children in this camp.
Also a lot of Italian artists, members of the Rete degli Artisti per la pace, Association of Artists for Peace, are present in Beirut during the Al Janana Festival which is dedicated mostly to the Palestinian refugee children.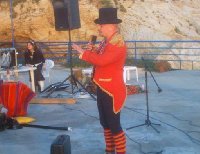 Refugee camps in Beirut,..
The Al Janana Festival focusses on solidarity and creating a stronger bound between the people of this camp who have lived in fear for many years and are not always certain of their future. During the festival the artists travel throughout Lebanon and visit several of the in total 12 official refugee camps. The largest ones are located in Beirut and is sadly known as the site of the Sabra and Chatila massacre.