February 14th, 2010
An amazing road trip through eastern Europe to the final travel destination of Russia. I decided to take off by myself and drive through the countries of the Czech Repunlic, Poland, Lithuania, Lettonia and Russia.
For me Poland and Russia were the most fascinating countries but I wouldn't have anything negative to say about the other destinations either. I would recommend taking a roadtrip because its a great way of seeing a lot of different places but I don't know if driving this route just by yourself is something I would do again.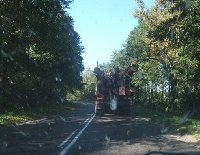 Roadtrip to Russia
I did meet up with some friends in Cracow which was a lot of fun and Cracow is a beautiful city with its amazing Market Square, beautiful churches and popular touristic attractions. I travelled a lot in Poland and its the country where I spend most of my time.
Besides Cracow I loved the city of Torun and discovered some of the finest chocolates at a local bonbonniere. Warsaw is a really chaotic city with a lot of traffic. Then Russia..I loved Moscow and this is truly a magical place for every visitor!
The only inconvenient thing I can think of would the roadconditions from Poland to Russia and the stops during my road trip at the check points of the Russian border control would be a travel experience on their own..In the end I had no regrets at all and went back home with lot of good memories!