March 6th, 2010
My two weeks trip to the Bahamas was a bit out of the ordinary but an amazing experience.
I spend the first week in Nassau, the capital of the Bahamas and a beautiful place with colourful houses, tropical rhythms and a local market with a lot of great souvenirs.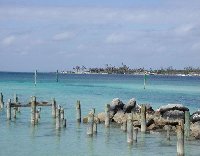 Islands of the Bahamas.
The second week we spend on the sailboat of my father and visited some of the inhabited islands around the Bahamas.
The iguanas on the islands were the only creatures we encountered on the different islands.
I also celebrated my birthday on one of these islands which was unforgettable!