March 30th, 2010
My trip to Nepal must have been one of my bigger adventures and definitely an experience I will never forget. I went to Nepal to participate in an organized trekking around the Anapurna, a series of peaks in the Himalayas.
After two stops in Kuweit City and New Delhi I arrived in Katmandu where I decided to stay for a week to get everything in order for the expedition. I also needed to find a Sherpa, a Nepalese guide to help me during my journey.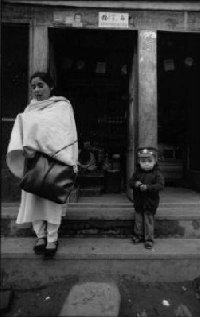 A Nepalese mother and her..
In total I would stay in Nepal for 40 days, enough to complete the expedition and enjoy the rich Nepalese landscapes. After one week in Katmandu the day of the trekking had finally arrived.
We left around 5.am by bus and headed for Pokhara, one of the biggest cities in the country, where we arrived after being on the road for seven hours. In Pokhara the people were assigned to their tasks and all the trekking gear was being prepared.
Two land rovers picked us up to bring us to a mountain villages where we would spend the night in a lodge. The next morning the trekking started and our first goal was to reach the base camp located at 18.000 feet and build inside one of the monasteries.
From this point you'll have some amazing and breath taking panoramic views which you won't see anywhere else! You can see mountain peeks above you at 26.247 feet, simply jaw drapping!