July 15th, 2011
The Annapurna base camp trek in Nepal is considered of of the most challenging trekking circuits in the world but also one of the most rewarding ones as the view at the peak of the Himalaya Range is something you can't compare to anything else.
This April I went for the challengin with two of my best mates and eventhough we had read a lot about the Annapurna trek we had never been to Nepal so we were in for quite some new impressions!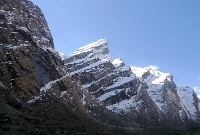 Holiday in Annapurna
After a short stay in Kathamandu we made our way north west were a tough hike in direction of the Annapurna Base Camp was waiting for us.
We had packed enough warm clothes and lip balm to last at least a year so we would be ok:) Without joking there are of course different climbing expeditions and levels you should be informed about when undertaking such a journey but once you take the time to do so and prepare yourself well it will be the travel experience of a lifetime.